£126,000 raised by TLC Lottery for Focus Birmingham in 2011 is enough to fund the purchase and running costs of one of their minibuses.
The minibuses provide a vital lifeline to the 90 people per day who use the day services at the charity's centre in Woodville Road, Harborne, by picking them up and taking them back home.
Service users are of all ages and have visual impairment and often other disabilities. The day service, which has been run by Focus for many years, provides social and learning opportunities. In addition this service also provides families and carers with a much valued break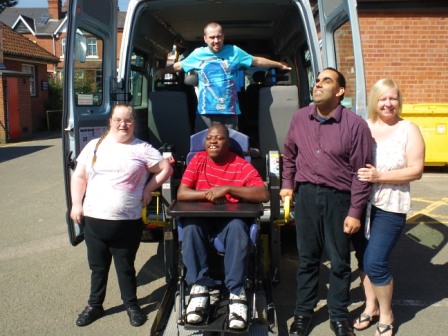 During the day the vans don't stand idle; they are all over the place taking individuals out for activities, trips and the like.
Without the support of TLC Lottery players, it would be difficult to extend this wonderful service to so many people, some of which would then be unable to attend the Centre.
This is only a small part of the work of Focus Birmingham – more details can be found at www.focusbirmingham.org.uk or by telephoning 0121 478 5201.
CLICK HERE To join TLC Lottery with a chance to win £1,000 every week whilst supporting Focus Birmingham, Birmingham St Mary's Hospice and Acorns Children's Hospice