Harborne insurance brokers Coversure have come up with a novel way of rewarding customers who take out a new policy or renew an existing policy in September.
"We decided to give our customers the chance to win £1,000 by buying them a TLC Lottery ticket" explains Coversure's Business Development Manager Paul Woodford"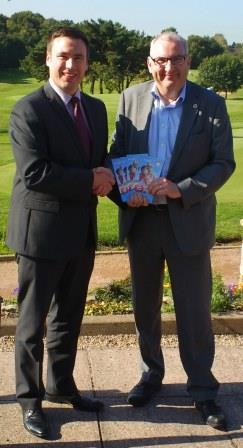 "We see this as a great way of supporting the TLC charities and giving our customers the chance to win a cash prize"
TLC Lottery is a joint fundraising partnership between Acorns Children's Hospice, Birmingham St Mary's Hospice and Focus Birmingham. Whilst money raised by TLC is unrestricted,, it is the equivalent of funding 3 specialist Hospice Nurses, 65 adult patients receiving Hospice at Home care and 2,000 home visits to blind disabled people.
In addition to buying TLC Lottery tickets, Coversure have set up a dedicated TLC page on their website and will make a donation of £30 for every referral that comes through this page, that go on to take out a policy
www.coversure-harborne.co.uk/tlc
"We are very grateful to Paul at Coversure for running this promotion and hope that other businesses in Birmingham will follow" added Lottery Manager Carl Bayliss.
Photo Caption (left to right)
Paul Woodford (Coversure) with Carl Bayliss (TLC Lottery)