The sun shone on the crowds on Saturday 11th August at the rescheduled Northfield Carnival.
Anne Webb and Lottery Manager Carl Bayliss were there on the TLC stand, selling £1 tickets for the £1,000 prize draw to be made on Friday 31st August. Click here to check if you have won
The carnival was a great success with 158 tickets sold and several people signing up as weekly playing members. Click here to sign up on line
Anne is pictured with a gentleman who has clearly got into the spirit of the Team GB Olympics Cycling Team.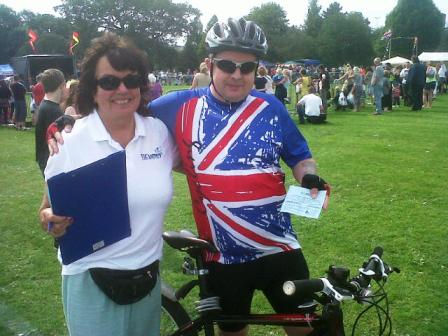 Many thanks to the lovely Betty Howard and everyone involved in organising such a wonderful community event.