The weekend of Saturday 7th and Sunday 8th July proved to be a record-breaking one for TLC, selling 620 tickets.
On Saturday Jo Lavender (pictured below) was at Moseley Street Fair with our Lottery Manager Carl Bayliss. Between them they sold 180 tickets in between the sun and the showers. It was our first time and we shall certainly return next year.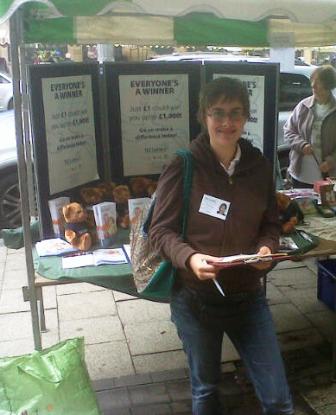 At the same time, Sarah Bellis sold 180 tickets at Co-op Stirchley with a little help from her mother Maxine.
Carl then moved on to University of Birmingham where he and his wife Jayne sold 60 tickets to the ladies registering for the Birmingham St. Mary's Hospice, Starlight Stroll.
On Sunday it was the turn of Anne Webb (pictured below) with Carl at Harborne Carnival, where we teamed up with our friends at Focus Birmingham on their stand and sold 200 tickets.
If you bought a ticket that weekend – thank you. The draw is on Friday 27th July except for the Co-op which was on 13th. Good luck and remember to check to see if you are a winner here.